UPDATED SEPTEMBER 22ND
Background. On August 3rd, the Seattle Redistricting Commission released a single map recommending Magnolia be split almost down the middle and create two separate council districts for our neighborhood. The Chamber penned an op-ed on the impacts of the redistricting process that ran in the Seattle Times on August 17th. Many Magnolia residents provided comments over the last month and a half, resulting in a newly proposed amended map by Commission O'Sullivan that keeps Magnolia whole and in a single district.
Update on the Redistricting Process – Amended Map offered on September 20th and proposes to keep Magnolia in one Council District. The Seattle Redistricting Commission is now considering an amended map that keeps Magnolia in a newly drawn and proposed 6th District. The map was created by a redistricting commission member, Rory O'Sullivan, and presented at the meeting of the Commission held on Tuesday, September 20th. The amended map proposes to incorporate SE Magnolia and Interbay with the western portion of Magnolia. The newly proposed 6th District as amended, will divide the 6th and 7th Districts at 15 Ave W. Hence, the amended map keeps all areas of Magnolia intact in one new council district, including Magnolia Village.
The Redistricting Process Moving Forward. The amended map is a proposal for the Commission to consider. It was discussed publicly at the regular meeting of the redistricting commission on September 20th. Commission O'Sullivan collaborated with the GIS specialists working with the Commission to redraw and propose the amended council district lines.
The amended council district map is posted on the Seattle Redistricting Commission website. The commission must continue to hear from Magnolia residents from now until the conclusion of the process in mid-November. The Chamber suggests that the amended map is a vast improvement to the initially proposed map that the commission released on August 3rd.
Why the "O'Sullivan" Amended Map is an Improvement. The amended map includes all the entrances and exits to and from Magnolia and the Interbay area. It recognizes that geographically, Magnolia is a clearly defined neighborhood, bordered by water and located on a distinct peninsula. It acknowledges that the entirety of the Magnolia neighborhood is a well-defined "community of interest," a vital component of redistricting. Magnolia has long-established neighborhood events such as Summerfest and Halloween in the Village. Neighbors walk along the entirety of Magnolia Bluff and recreate in the playfields adjacent to the Magnolia Community Center and Mounger Pool. Our history and a shared sense of community are captured in three different historical books penned by local authors and published by the Magnolia Historical Society. Our neighborhood enjoys a Magnolia Little League and Magnolia Soccer Club. It has its own Seattle Public library and a distinct business district in Magnolia Village undergoing extensive, community-driven, and local donor-supported streetscape improvements.
Contact the Commission TODAY if You Support the Amended Map. If you agree with the amended map that keeps Magnolia in the newly proposed 6th Council district and includes Interbay along 15th Avenue W., please log on to Seattle Redistricting Commission's website and its "How to Participate" page. Extend appreciation to the Commission for listening to concerned residents. Share support for keeping Magnolia as one district. Please use our updated and suggested talking points immediately below, if needed.

Suggested Talking Points in Support of the Amended Council District Map

– The amended map proposed by Commissioner O'Sullivan better adheres to the principles guiding the city's redistricting process: boundaries should follow existing district boundaries and rely on recognized waterways while following geographic boundaries that help preserve communities and neighborhoods.

– The amended map proposed by Commission O'Sullivan recognizes that Magnolia is a distinct community of interest. It is a neighborhood well defined by its high voter turnout, support for public projects funded by levies, its organizations such as the Magnolia Chamber, the Magnolia Historical Society, Magnolia Soccer Club, Magnolia Little League, Magnolia Community Council, Magnolia Village Beautification Committee, among others. The amended map recognizes that Magnolia residents have a direct stake and interest in the growth and development along 15th Ave. W. from Smith Cove to the Ballard Bridge and Interbay given Magnolia's limited ingress and egress transportation corridors.
The amended map keeps Magnolia's most identifiable public assets whole, including schools, parks, libraries, playfields, the sidewalks of Magnolia Boulevard, bike routes, etc., The amended map recognizes that these essential cultural facilities and amenities help to define Magnolia as one community of interest and will be kept intact by the Commission's redistricting process.

– The amended map solves the division of Magnolia Village that is in the proposed map of August 3rd
Below is the amended map of September 20th and proposed for consideration by Commissioner O'Sullivan. The pink area of SE Magnolia and Interbay has been proposed to be located in a new District 6 and will make Magnolia "whole" with all neighborhood areas in one council district. Fremont would be moved into a newly redrawn District 7.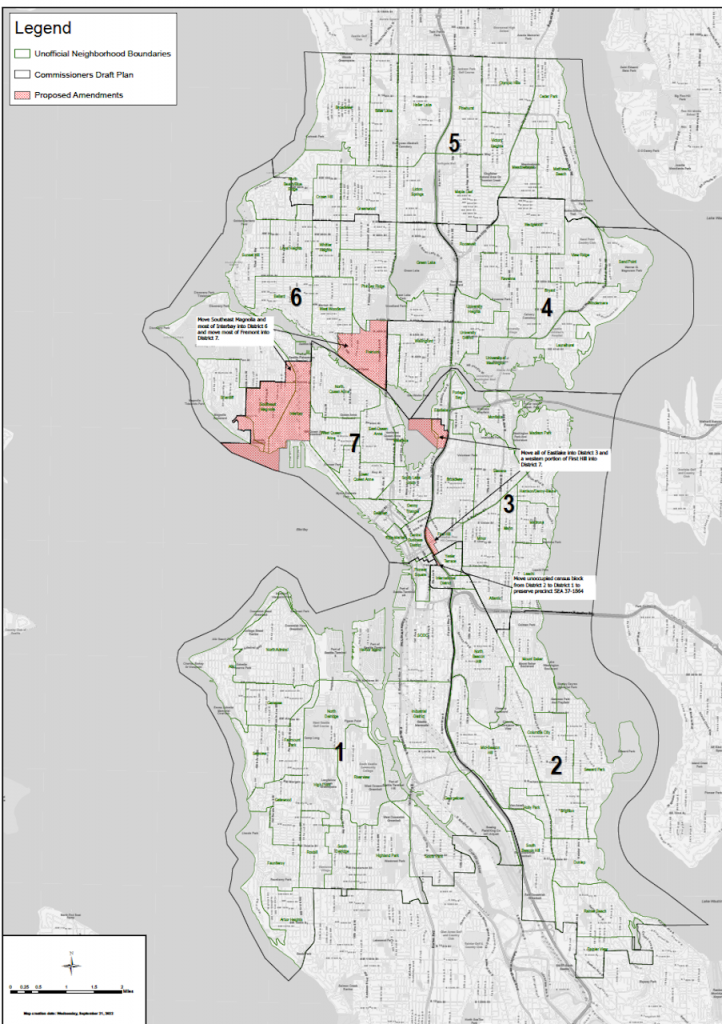 Additional Background and Context
Why Should You Care and Why is Redistricting Important to Magnolia Residents? For community groups like the Magnolia Chamber of Commerce, the proposed splitting up of core business areas by the council draft district map released on August 3rd, including the splitting of Magnolia Village, will require the Chamber to work with and have access to two city council members and staff and collaborate with two different constituencies on issues important to our membership.
The Magnolia Chamber's membership reflects the geographic boundaries of Magnolia, usually described as the area west of 15th Ave W to Puget Sound, with the Ship Canal acting as the northern Magnolia boundary and Smith Cove acting as the southern Magnolia border (see Seattle Police West Precinct MMCP Location map). The Magnolia Chamber serves businesses in Magnolia Village and many other neighborhood businesses, services, and family members located along Government Way, Gilman Ave W., Interbay, Thorndyke, and Elliott Bay Marina.
We believe the city should promote direct lines of communication between the residents and governments that serve them: In this instance, the city council, the legislative branch of the city of Seattle. The city council is a crucial policy-making body with local taxing authority and oversight over the city's land use decisions, transportation, and public utility needs while guiding the city's and its neighborhoods' growth.
If the amended map of September 20th is not adopted, the Chamber and Magnolia residents will be compelled to work with multiple staff from two different elected council members who may or may not agree on important public policies, city budgets, establishing tax rates, critical infrastructure improvements, and addressing constituency concerns. The proposed redistricting map of August 3rd, and the splitting of Magnolia into two separate council districts will disrupt the long-established "boundaries" of our neighborhood and potentially disassemble decades of community unity, collaboration, organization, and identity. The amended map of September 20th fixes these concerns.
Indeed, the location of City Council district lines decides which voters vote for which Seattle Council member and changes the communities each district must work with. Splitting Magnolia and Magnolia Village into two separate council districts, as in the proposed map of August 3rd, will change the relevant voters' and the council members' identity, allegiance, and political priorities. The proposed fracturing of Magnolia will also result in council members being less accountable to our neighborhood and avoiding responsibility when challenges occur. The Chamber supports the amended map of September 20th to avoid these issues.

What is a Community of Interest in Redistricting and Why is it Important? A community of interest is a group of people with shared concerns, interests, and characteristics. It is an essential element in redistricting criteria and is missing in the August 3rd proposal to split Magnolia into two separate council districts. Magnolia, a long-established neighborhood in Seattle, is a community of interest and should be maintained in a single council district as is done in the amended map of September 20th. Magnolia is geographically defined neighborhood and comprises people with common policy concerns and interests.
Magnolia Has a Distinct Voting Pattern and Behavior. One indicator that Magnolia is a specific and defined community of interest is its voting patterns. Magnolia precincts vote. Most of its precincts have a 50% or more voter turnout, with some precincts as high as 80% depending on election cycles. The Seward Park neighborhood is the only other area in Seattle with as high a voter turnout as Magnolia.
Magnolia is also a neighborhood that supports – often quite strongly – levies aimed at improving the quality of life throughout all of Seattle. For example, voters in Magnolia have consistently voted in large numbers to support levy-generated funding for affordable housing, public transportation and safety, public schools, parks, and libraries. Magnolia voters' support for property tax increases has generated billions of dollars in funding via the Seattle Housing Levy, Seattle Public Schools Operating and Capital levies, Library levies, the Levy to Move Seattle, the Parks and Green Space Levy, and the Fire Facilities and Emergency Response Levy. Magnolia's voter support for levies also funds King County property taxes to improve public services throughout greater Seattle and King County. Every community in Seattle benefits from Magnolia's commitment to voting and consistent support for Seattle's 'greater good' projects and operations that depend on levying property owners to achieve necessary funding.
Magnolia has Policy Interests Related to the Growth of Interbay. A second indicator that Magnolia is a specific and defined community of interest is its shared policy needs. Access and exiting the Magnolia neighborhood is a longstanding and ongoing concern, given that residents, visitors, and businesses depend solely on three bridges to get to or from the Magnolia peninsula:
The Magnolia Bridge is just north of the Port of Seattle's Pier 91 at Smith Cove, currently a home port for several large cruise lines, and is accessed by 15th Ave. W
The Dravus Street Bridge moves vehicles, bikes, and pedestrians exiting from 15th Ave. W. to access Magnolia
The Emerson Street Bridge is accessed from 15th Ave. W. and Nickerson. It serves as the northernmost entrance/exit to/from Magnolia via the intersection of W. Emerson Street and Gilman Ave. W.
There are numerous concerns related to transportation activities and growth plans for the area, much of which are driven by the city's proposed Industrial and Maritime Strategy that will impact the Interbay area and the three bridge access points to Magnolia along 15th Ave W. This includes but is not limited to development projects such as the Terminal 91 Uplands Development Project to support maritime manufacturers and fishing industry suppliers in the Ballard Interbay Manufacturing Industrial Center. It also includes the 25-acre Interbay Armory site north of the Magnolia Bridge, currently owned by Washington state. It may eventually be redeveloped to have a mix of uses such as industrial, office, and maker spaces. It also consists of a proposed Smith Cove light rail station that will impact access to the Magnolia Bridge. Though the City of Seattle has studied options for replacing the Magnolia Bridge, it has yet to determine the bridge's type, size, or location. All these projects and plans aim to transform the area in the future.

As proposed by the map released on August 3rd, Magnolia residents must cross one of the three bridges to access their homes or apartments via 15th Ave. W. yet will not live in the proposed 7th District, where the Interbay transformation projects will be located. However, most Magnolia residents will live in the proposed 6th District. Magnolia – as a community of interest – has a direct stake in how the Interbay area along 15th Avenue W. from Smith Cove to the Ballard Bridge is developed, given that the area provides the only entrance and exit points to the neighborhood. It is essential that Magnolia residential areas are included in the same council district as 15th Ave. W. in the Interbay area. We believe the amended map of September 20th addresses these concerns and keeps Magnolia and Interbay together.

It is important to note that we are NOT against any of the redistricting efforts to date by other organizations and neighborhood groups. We appreciate that redistricting is a public process and there are many points of view. As we understand public processes, public comment periods, and the spirit and intent of the Administrative Procedures Act, all of the public should be allowed to and can weigh in and provide thoughtful feedback to help inform decision making.
MAKE YOUR VOICES HEARD! The Commission Needs to Hear from YOU! Now is the time to provide comments to the Commission and support the amended map offered on September 20, 2022.
Keep those comments coming – stay informed and involved
The Commission will host public forums, meetings, and online public comments between now and November to receive your comments and listen and respond to recommendations and concerns from Seattle residents.

The current schedule is as follows:
Residents can provide verbal public comment during the weekly Tuesday meetings of the Redistricting Commission from 12:00pm-1:30pm | Join Online or in person at the L280 Boards and Commissions Room at 600 4th Avenue, Seattle WA, 98104
Redistricting Citywide Public Forum #1 | Watch Recording
Redistricting Citywide Public Forum #2 | Watch Recording
Redistricting Citywide Public Forum #3 | 10.08.22 from 10am-12pm at the Bertha Knight Landes Room at City Hall 1st Floor or join online
Your voice ensures that communities like Magnolia have equitable and consequential representation and voting influence.