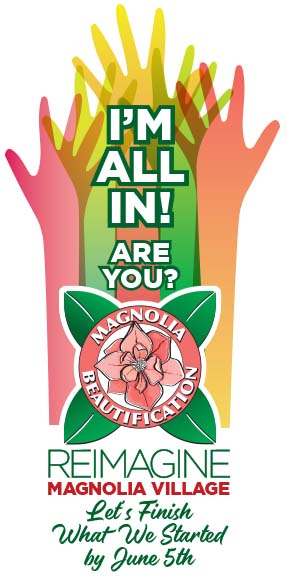 The Reimagine Magnolia Village project is delighted to share that two donors have offered to match any future donations up to $20,000. Their generosity is all in the effort to complete Phases II & III of the beautification project. 

We are so close. 

With your gift (that will be doubled if donated on or before June 5th), you will ensure new tables, chairs, red umbrellas, and maintenance activities are purchased, installed, and completed on West McGraw Street between 33rd and 35th Avenue West.

We are very hopeful that the "I'm All In, Are YOU" fundraising campaign is going to get us over the finish line and we can complete the streetscape improvements.

If you have been in the Village, you have seen what donors have already accomplished. Together, we have improved sidewalk safety over three blocks. New poles are up and trees planted, the benches have been refurbished and installed, and stunning flower baskets and inspirational banners have been hung. 
All we need now is your support and we can purchase the very popular tables, chairs, and umbrellas.
When we kicked off our fundraising efforts back in October 2019, we used the phrase "Let's get it started." Today, we ask you to be all in to finish Phases II & III by doubling your donation if you give on or before June 5th.
Please share this time sensitive and lucrative matching donation offer with all your neighbors and friends. Let's complete Phases II & III of the Reimagine Magnolia Village project and double your generous gift.
Donate here.